---
C-shell, a light design floating house bay only / factors that drive seastead design general info basic read up to engage discussion / ramform render pictures //
---
Ramform marina setup
---
Ramform air view
---
---
---
---
tubular shell structures outside view / platform vs shell principles /
---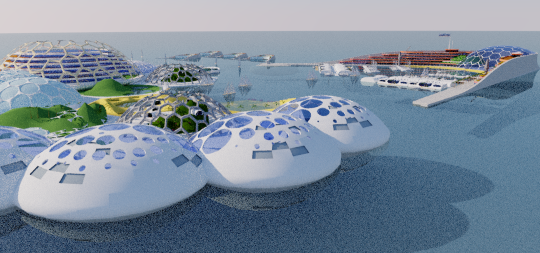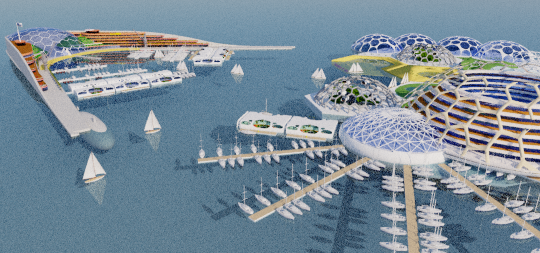 ---
---
The idea of the ramform is to have a triangular structure that encloses a biggest possible calm water lagoon for a marina with the least possible amount of construction material.
---
The whole structure has a total volume of 12.500 cubic meter shell building what burns down to 5.000 square meter real estate available.
---
Total building cost USD 500.000 for the raw hull.
---
---
A bigger version with 10.000 real estate square meter (25.000 cubic mether hull volume) will cost USD 1 million
---
---
In front you have a bow that is capeable to cut trough Draupner waves and is basicly designed after a Ulstein X bow used in normal shipbuilding.
---
Seen from the front the structure look almost like a normal ship
---
---
The thin extensions give a wide beam that increases the stability and move the already split waves gently along without touching the lagoon which holds the marina and the soft units (houseboats) that can not be exposed to big oceanic waves…
---
The tips of the arms keep growing as money flows to the venture and the lagoon fills gradually with marina walkways platforms and business protected from the waves.
---
The original start up real estate is located on the terraces of the gentle slope of the backside of the bow structure overlooking the lagoon. Big glassfronts are possible as wave impacts can not happen here.
---
Ramform City at night the lights indicate the front windows of the housing and business units - they are arranged on the sides of the structure that will not recieve wave impacts.
---
The space between the two stern extensions will be filled with a "floating marina" - picture it like this…
---
---
more about the ramform here
---
bow model for a ramform ulstein x bow
---
marina walkways for the lagoon
---
terraces on the why yacht similar to the ramform
Check this video of the WHY yacht how living on a triangular structure with a high bow comming down in terraces to the stern is looking and feeling. Other than the WHY yacht that works on a price base of USD 27.000 per real estate square meter, the ramform project can work on a price base of USD 100 per real estate square meter.
---
The WHY yacht has no lagoon stern feature it is built for speed, while the ramform city is built for stationary use trade business and openess for interchange.
---
A test piece of a light concrete honeycomb structure in Cartagena, the ramform will be built in that method that allows light and economic building combined with unsinkability.
see more about floating concrete building methods
---
Why a floating island needs to be triangular and have a bow structure to avoid unpleasent movements see Ecuador Coast Guard base
---
---
---
---
a floating city sized light shell glass structure - bow area a bit fragile for a draupner
---
http://nautilusmaker.discoursehosting.net/uploads/db7580/683/1c00b8e765cc4529.jpg
What is going on in this port / marina is supposed to go on in the protected lagoon feature of the ramform…
---
---