| oceanic business alliance™ | @nautilusmaker | New-Atlantis™ | New-VENICE™ |
---
---
http://nautilusmaker.discoursehosting.net/uploads/db7580/original/2X/e/ec93f71776ce2bf0d06f5c4c1c1696bd7456072a.png
ramform | dome cluster | combined floating development | ocean colonization | oceanic business alliance |
---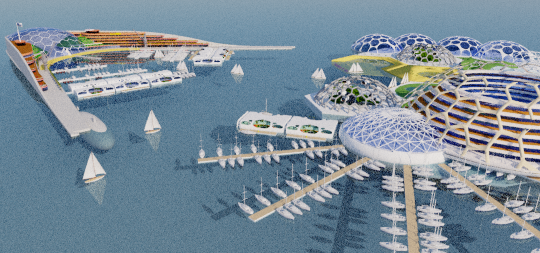 ramform | dome cluster | seasteading | Matias Volco | Ellmer Group |

---
ramform near shape lagoon
---
---
---
---
floating light shell structures can have big window fronts on the side that is protected from wave impact.
---
single house unit wave impact safe shell with small bull eye windows in the upper section.
---
floating light shell with a hardened side for wave impact and a soft window side
---
cluster shell ambient outside impact safe stronger than a house on a platform expandable a new shell can be added to the complex at any time
---
protective mini shell as watertaxi
---
mini sphere shell house size
---
honeycomb shell city
---
futuristic honeycomb shell bubble cluster structure light truss principle
---
ramform honeycomb shell
---
shell dome lens
---
tubular light shell dock connection network
---
underwater tubular shell connection
---
shell dome city
---
shell platform city
---
futuristic shells
---
light tubular shell plenty of light
---
connection to docks like airplain tunnels connect to the airport nobody falls overboard.
---
small tubular structure shell combined with window areas
---
Light concrete shell cluster
---
---
---
Imagine living on a Floating structure / outside view / inside view / building principles / ramform /
---
---
---